Flute lessons in Gouda
"FREE trial lesson now! / Questions?"
Learn to play the flute and discover music from the past and the present!
This is possible in Gouda, or in the area. In my place in Gouda-Goverwelle, or at your place.
We can also do flute lessons on internet: via Zoom or Skype. The best is coming together, though. If you want internet lessons it does not matter wherever you live!
I would like to introduce you to flute playing and making music!
Everyone from 8 years old can learn to play the flute (short for transverse flute). You will get to know the flute, and you will learn to play different songs. Beginners often enjoy having lessons with 1 or 2 others at the same time. Making music together is fun, it motivates you and encourages you to learn to play more.
Research shows that making music is good for you, socially, and emotionally, and it even benefits your grades. Lately, more and more is appearing in the media about this subject. It can only be an even greater incentive to start playing the flute right now!
Do you want to be able to read music?
Do you want to play the flute? Do you want to learn to play music together?
Starting with flute lessons
In the beginning, it takes some effort to get used to making a good sound on a flute. Yet almost everyone can learn to do it quickly! It is a bit like blowing on a bottle to make it whistle.
You will quickly learn to play some songs and read music notes. Also, of course, you will soon play much better than you did on your first lesson.
30 min. lessons per week
You could also rent a flute! Renting or buying a flute
Starting with flute lessons together (only with sufficient registrations)
Having your flute lessons together is fun! You can play together, and learn together and from the others. You will learn how to make a good sound on the flute. Also, you will soon learn to play some songs together and read music notes.
30 min. lessons per week for 2 students; 45 min. lesson per week for 3 students.
You could also rent a flute! Renting or buying a flute
"Register now for your FREE trial lesson! / Questions?"
Do you want to play nicer pieces?
Do you have trouble with high notes?
Flute lessons
If you have had flute lessons before, you probably would want to have a bit longer lessons now. I also would recommend for you to take lessons together, in a small group of 2 or 3 (with sufficient applications), if possible.
You will get to know all kinds of new pieces, and you will learn to play more notes. You will be able to play the notes in more ways than before: hard or soft, longer beautiful tones, and much more. You will notice that each piece has its own character; and you will be able let the listener hear that much better, when you play the flute yourself. When playing together, you will learn to play different voices, which complement each other.
30 min. lesson; 40 min. lesson for 2 students

Renting or buying a flute
It is possible to rent a flute, if you do not choose to buy one yet. Please give me a call when you want to select a flute (buy or rent). Then I could come with you and advise you, on which flute is a good choice for you. There are, besides the well-known normal-size flute, some different smaller flutes you can rent, as well. Of course, adults are welcome to take flute lessons, and could also rent a flute, or buy one.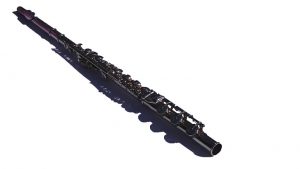 Nanda Verbrugge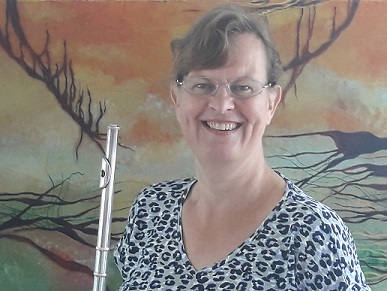 Photo by: Evelien Vink
For years, I have really enjoyed giving flute lessons to children and adults.
Usually I teach in English, and of course I can also teach you in Dutch.
When you come to me for your flute lessons, I will teach you and the other students some new notes. You will also discover new pieces, or learn how to play very familiar pieces. In addition, together we will search for ways to improve the sound of a piece, or even a note. With focused exercises, on subjects where you and the other students experience difficulties, your technique of flute playing improves steadily.
If you find it a nice challenge to try harder pieces, I can help you with the technique and the tone quality. If you still find it a bit scary to play a new piece, or, for example, if you are afraid to play high notes, (yes, that happens to many students!) then I will gladly help you with that.
I always enjoy playing the flute and making music together. I gladly pass that passion for playing the flute and for music on to you!
Flute lessons for
Children from 8 years
Adults
Beginners
Advanced
Languages
Dutch
English
Where
Gouda, and around Gouda (am living in Gouda-Goverwelle)
I can give lessons at home on request
Flute lessons via internet: via Skype, or Zoom
When to start
You can start any day of the year!
Contact / Questions?
Feel free to contact me if you have questions, if you want more information about flute lessons, or if you want to sign up yourself and / or your child for a FREE trial lesson!
"Questions? / Get your FREE trial lesson!"
Nanda Verbrugge
MusIT Solutions
Other website (webdesign, IT): www.musitsolutions.nl
KvK nr. 70881006
BTW nr. NL188381764B01